Pyramid of Brand and Marketing DevelopmentSM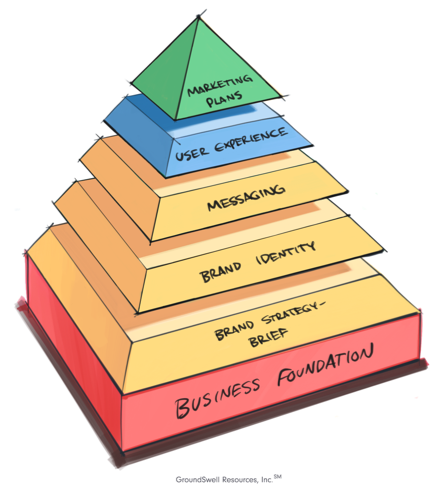 Our Pyramid of Brand and Marketing DevelopmentSM leverages Peter Drucker's foundational thinking around the core function of marketing. According to Drucker, the grandfather of management theory, effective marketing is knowing your customer so well your product or service sells itself. He felt most marketing was really selling. When you talk about features and benefits, you're selling. When you focus on your customers' demographics, their needs, their values – you're marketing. We developed our Pyramid of Brand and Marketing DevelopmentSM as a visual roadmap for successful marketing.
And that roadmap starts with clearly defining your customer, what they value and how they buy. These are the same questions we answer at the start of our licensed strategic planning process. Drucker also felt that perception versus data/information would guide most customer decisions going forward. With that mind, we rigorously follow Alina Wheeler's frameworks in Designing Brand Identity to ensure your brand strategy ties to both your business strategy and your brand identity, the term used collectively for all touchpoints like your website, packaging, trade show booth, etc. From there we utilize a hero-guide story telling model to ensure your messaging focuses on your customer (the hero),
not the guide (you).
And before selecting your marketing channels, developing content, and paying for advertising and PR, you need to consider your customer's user experience ("UX") across all your touch points. In this day and age of information overload, it needs to be so easy to understand and buy your product your customers almost don't need to think.