This section provides more details on the key frameworks embedded in our Business Ownership PlatformSM.
Business Ownership PlatformSM
Defines the five critical content areas and skills integrated into our Business Ownership PlatformSM.
Organizational AlphaSM
The incremental results and decreased risks utilizing GroundSwell's Business Ownership PlatformSM.
The Pyramid of Organizational DevelopmentTM*
Identifies the six financially predictive factors that drive organizational success and Organizational AlphaSM.
Growing pains
The pains that exist when an organization's revenue exceeds its existing people, resources, and systems.
Stages of Organizational Growth*
Defines the predictive relationship between revenue and stage of organizational development in The Pyramid of Organizational DevelopmentTM*.
The Pyramid of Management and Leadership DevelopmentTM*
The underlying critical management and leadership skills required to develop an organization's infrastructure and create Organizational AlphaSM.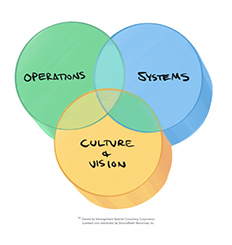 Leadership MoleculeTM*
Identifies the three key leadership roles and five key functions that must exist to successfully stabilize, grow or transition any organization.
Strategic planning
A systematic and flexible six step process that underlies how GroundSwellSM partners and invests in businesses and owner-managers.
Pyramid of Strategy DevelopmentSM
Clarifies what matters in your industry and ultimately answers the question are you different than your competition. It also provides a method to create differentiation if you're not.
Time-driven activity-based costing
Budgeting based on time and cost that accurately predicts revenue and profits within 5%.
Pyramid of Brand and Marketing DevelopmentSM
Clarifies the critical variables of an integrated brand and marketing strategy.
Pyramid of Tech Stack DevelopmentSM
A systematic approach to assess, plan and implement the hardware & software you need.
Inner OptimizationSM
Enables managers to be objective in their behavior and decisions and improve overall well-being.
Intrapersonal TensegritySM
Defines five key integrated personal development areas vital to peak performance in business ownership.
Want more detail behind what we do? We have a lot more to share if you're interested.